Main
Characters

-- Yusuke Urameshi
-- Hiei
-- Minamino Shuichi
-- Youko Kurama
-- Kazuma Kuwabara
-- Koenma Daioh
-- All Female
-- Sensui & members
-- Leftovers

Story
Techs
The Gallery
Sounds
For Fans
Seiyuu
Awards
Webrings
Links


---
Sign the G-book
View the G-book

Email me at:
prisea.geo@yahoo.com
ICQ#9039462


---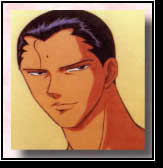 NAME: SHINOBU SENSUI
CODENAME: DARK ANGEL
AGE: 26 BIRTHDAY: JUNE 6

A former rei kai detective who was brainwashed by seeing innocent youkais tortured by humans ( with Sakyo ) whom he tried to protect from demons ( which he thought were the evil ones ) . He leads a group of 7 people with extraordinary capabilities whom he himself was the one who gave it to them. He plans to generate a hole linking makai to ningenkai which will bring chaos. This plan was just like what Sakyo had in mind. Anyway, the reason why Sensui planned it is to have Yusuke's attention. His real plan was to be killed by a youkai and die in makai, the place where all the demonslive including the ones he had killed. Sensui's powers are incredibly strong. His powers are classified as an s-class. And because his powers exceed with Yusuke's, he managed to kill him . Hiei, Kurama, and Kuwabara had no chance against him as well. Speaking of his powers, he also have seven personalities living inside him which will appear one by one in different situations. He gained those personalities from thousands of battles he had confronted as mentioned in the series. During his battle with Yusuke, these personalities in him appeared one by one and once one of them was defeated or slowly losing, the other person or character will take over. Yusuke had a hard time about it, but he managed to defeat Sensui after being reborn by his youkai blood with class s power. Itsuki took Sensui's body and soul right after Sensui's death . He did not allow Sensui's soul to go to rei kai because Sensui once told him that when he dies, he does not want his spirit to go anywhere. And so, Itsuki held him into his arms and let time pass by in the world of shadows.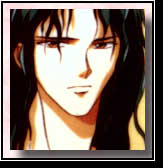 NAME : ITSUKI
CODENAME: GATE KEEPER
AGE: UNKNOWN OTHER INFO: UNKNOWN.

The right hand of Sensui. He has a pet shadow with a form of a giant head and swallows anything its master tells him. It was slashed with Kuwabara's dimension sword during Yusuke's battle with Sensui inside the cave. On the other hand, Itsuki seemed to have an interest on Sensui. He observes his every move; like his emotions, weakness, fighting skills, etc..he was amazed with Sensui as a human and he was more amazed on him because he never showed any weakness during their travels. Another reason is because Itsuki owes his life to Sensui. As a youkai, he was almost killed by him because he was one of the demon targets of Sensui. After their fight, Itsuki was lying on the ground, seriously wounded and barely alive. At that time, he was given a chance by Sensui to say any wish before he die. Itsuki wished to live another day so he could see the last episode of his favorite TV. series. It was a coincidence that Sensui was watching that series too. Sensui decided to let Itsuki live and Itsuki became his companion from that point on.



NAME: KAMIA MINORU
CODENAME : THE DOCTOR
AGE : 29 BIRTHDAY: AUGUST 20.

A doctor who can heal himself whenever he's injured, bruised, or cut. He can also cut through anything using his fingers. He was also the one who released thousands of flying robot insects carrying a solution that can make a person feel ill and very weak. Their skin turns to blue once they're infected. He was defeated by Yusuke and almost died. When he was defeated, the mosquitoes fell down and the infected people were cured, including Keiko. At the end of the Sensui saga, he changed his appearance so that people would not recognize the part of him which is a wanted doctor being searched by the police. He was never caught and he started to use his abilities into good use.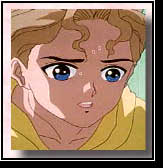 NAME: MITARAI KYOSHIN
CODENAME: SEAMAN
AGE: 14 BIRTHDAY: JANUARY 10 *MARINE SCHOOL GRADUATE.

He was given the ability to create hideous monsters made of water when mixed with his blood - the more quantity of blood, the bigger the monster. He was often bullied by his classmates and he had no friends from school. People always treat him differently which was the reason why he gave in to Sensui's offer. He was defeated by Kuwabara when he attacked Kuwabara and his friends one rainy night after watching a rock band concert. When Kuwabara's friends were crying for help, Kuwabara's rei ken transformed into a more powerful and solid sword called the dimension sword. He attacked Seaman in one slash. Kuwa's friends were saved and Mitarai was seriously wounded. Kuwa brought his friends and took them home. He also took Mitarai to his place and helped him heal his wounds. Kurama and the rest talked to Seaman about Sensui and all the evil plans they had and already done. With Kurama, Genkai, Botan, and the others' help, Mitarai came up with his senses and helped them find Sensui's lair.



NAME : AMANUMA TSUKIHITO
CODENAME: GAMEMASTER
AGE : 11 BIRTHDAY: NOVEMBER 7

Amanuma has the ability to turn a game into reality. The only way someone could escape his game / territory is to defeat him. Amanuma's powers were given to him by Sensui upon approval. Amanuma did not have much friends and did not have a good relationship with his parents , and so he was lonely and spent much of his time in the arcades. When Sensui offered him a chance to be someone with special powers, he was excited and he thought it would be fun but he was not aware that his own power/territory would bring his own destruction. Kurama defeated him in the game and death was the result for the gamemaster. Kurama took it very seriously because he was unable to save the poor kid . It was fortunate for Amanuma that he was saved by Koenma using Koenma's pacifier. When he was brought back to life, his powers disappeared and started a new life. He also started to have friends in school.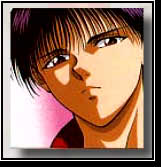 NAME: HAGIRI KANAME
CODENAME: SNIPER
AGE: 17 BIRTHDAY: FEBRUARY 3.
WITH 3 SIBLINGS.

A high school student with telekinesis power. He also rides a motorbike and he often uses marbles like bullets: he aims them to his target, and snaps it one by one towards his opponent with a speed and impact of a bullet. When he was busy playing around with Yusuke during the saga, Hiei surprisingly striked him with his sword with precision. Sniper fell down the ground unconscious. He was treated by Dr. Kamia after Sensui was defeated. Dr. Kamia was impressed of Sniper's wound since the sword went through the middle of Sniper's muscles and did not damage any organs. Sniper went back to school afterwards ,finished high school, and mysteriously disappeared. He may not have shown it before but he is actually a sensitive and kind-hearted guy. At the end of the saga before he disappeared, he and his sister saw a dead cat. His sister, having extraordinary powers as well, sensed the fear inside the cat's body because the cat was hunted and killed by lunatic students. His sister touched Hagiri's forehead to transfer the feeling to him. Hagiri then decides to hunt those students down because they happen to be his classmates. That ends his story in the series.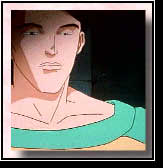 NAME: MAKIHARA SADAO
CODENAME: GOURMET
PERSONAL INFO: UNKNOWN.

A youkai/man-eating youkai who can also possess the ability of the man/youkai he eats. There was a former boxing champion named Murota whom he ate because Murota started to speak against Sensui's group. Also, it was unfortunate for him that he ate the immortal Toguro Oni. Because of this, Toguro lived inside his body ( Toguro was immortal remember? ) while gourmet suffer the pain and agony because of the effect. Gourmet was swiftly defeated by Kurama with just one quick attack with his rose whip by slicing up his head horizontally ( this happened in the lair of Sensui right after Amanuma's defeat ) . When gourmet was defeated, Toguro Oni's head appeared replacing gourmet's head and he used gourmet's body to move. Kurama knew that Toguro was in Gourmet's body from the beginning and so, he managed to defeat Toguro by using a tree of hallucinations.The tree supposedly supplies nightmares to any beings whom it is attached to until the being dies. But since Toguro is an immortal, he will see all those hallucinations for all eternity.




---
This site was created by Liza - prisea.geo@yahoo.com
All Rights Reserved
Yu Yu Hakusho is copyrighted by Yoshihiro Togashi / Shueisha Fuji T.V. Studio Pierrot